About Shannon Egan
Born and raised in Salt Lake City, Utah, Shannon spent two years (2004-2006) working in the Sudanese capital, Khartoum, as IRIN News' (formally with the United Nations) primary freelance journalist. During that time, she provided accurate and compelling coverage of both anticipated and spontaneous news and she traveled throughout the country to cover a variety of humanitarian issues, including the genocide in Darfur and the spread of HIV/AIDS.
In 2007, Shannon moved to New York City and wrote for the United Nations Population Fund (UNFPA), an agency focused on reproductive health and human rights and aims to deliver a world where every pregnancy is wanted, every childbirth is safe and every young person's protentional is fulfilled. While working for UNPFA, Shannon's reports on humanitarian crises, including those in the Pacific Islands, Dominican Republic of Congo, Kenya, and Nepal, played a critical role in raising awareness about support for women to ensure the health, security, and well-being of families and communities.
In early 2007, Shannon established a contract with Fifi Oscard, a renowned literary agency. While living in New York, Shannon worked closely with her agent, Carolyn French, to develop a book based on her experiences in Sudan. Throughout this process, Shannon's ongoing struggle with drug and alcohol addiction worsened, and as a result she lost the contract.
Today, Shannon is a multiple time award-winning grant writer, raising nearly four million in funds for US-based addiction recovery organizations. Some of her hard-won proposals include the:
Substance Abuse Mental Services Health Administration (SAMSHA)

Recovery Community Services Program-Statewide Network

grant for $450,000 awarded to Foundation for Recovery in Nevada to launch a statewide recovery support network;

Substance Abuse Prevention & Treatment Agency

grant (under the Women's Set Aside Funds) for $107,000 in Fiscal Year 2017 and $104,000 in Fiscal Year 2018 awarded to Foundation for Recovery in Nevada to provide peer support services to women in the criminal justice system;

SAMSHA 2016 Targeted Capacity Expansion-Peer-to-Peer grant for $900,000.00 awarded to USARA in Utah to provide peer services to individuals seeking recovery;

Temporary Assistance for Needy Families (TANF) Workforce Services 2016 Funds for $898,488.00 awarded to USARA in Utah for addiction intervention services.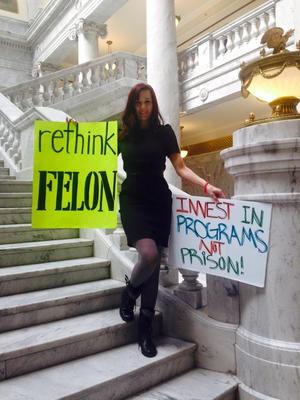 Shannon is celebrating over seven years in long-term recovery and works as Marketing, Communications and Development Consultant for Addiction Recovery Organizations world-wide, including for the Recovery Africa in Ghana. She has also supported projects for Faces & Voices of Recovery in Washington D.C, Generation Found Film, Lost & Found Recovery, Recovery Communities North Carolina, Spirit Works Foundation in Virginia, Lost & Found Recovery in Minnesota, and many more. Through her expertise, she aims to provide affordable and innovative growth campaigns to help organizations expand their reach, and in turn, facilitate a positive conversation around America's crisis.
For the New Advocacy Recovery Movement – a social health movement consisting of millions of recovery community members and government leaders - Shannon works to affect public and private policy changes at the local, state, and federal level to reduce the stigma surrounding addiction as well as barriers to sustaining long-term recovery. She is a motivational speaker on 'Creativity in Recovery for Optimal Health and Well Being' and 'Multiple Pathways of Recovery' and speaks at and emcees for a variety of conferences each year.
In 2015, Shannon was selected by Facing Addiction, a national non-profit organization dedicated to finding solutions to the addiction crisis, to act as the Utah State Captain for the first-ever national recovery rally (called the UNITE to Face Addiction Rally) which took place in October 2015 at the National Mall in Washington, D.C. That same year, she self-published her first book, No Tourists Allowed: Seeking Inner Peace & Sobriety in War-Torn Sudan.